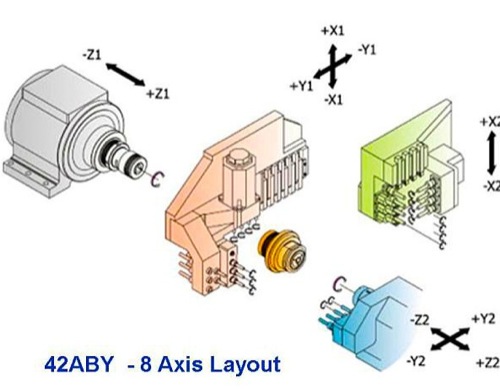 Specifications
Standard Accessories:
- 52mm Capacity
- Non Guide Bushing Type
- Guide Bushing Type Available
- FANUC 32i Control
- Y-Axis on the Sub-Spindle
- 8-Axis
- Up to 20 Live Tools
- C-Axis Main and Sub-Spindle
- 15,500 Lbs machine
- Part Conveyor
- Chip Conveyor
- Oil Cooled Spindles

Notes
Can run with or without a GUIDE BUSHING.
Turning Diameter 52mm NGB
42mm Turning Diameter with Guide Bush
Non Guide Bush are available for making complicated components.
Hydraulic Chucking System
Deep hole drilling on Sub side 2 fixed & 2 Live.
The tooling system has two Y axis and C Axis (main and sub). Total
42 tool positions and up to 20 Live
Cross and Face drilling function are available on Main and Sub Spindle.
Built-In Spindle with oil cooling system offers high efficiency, low noise
and high accuracy environment.